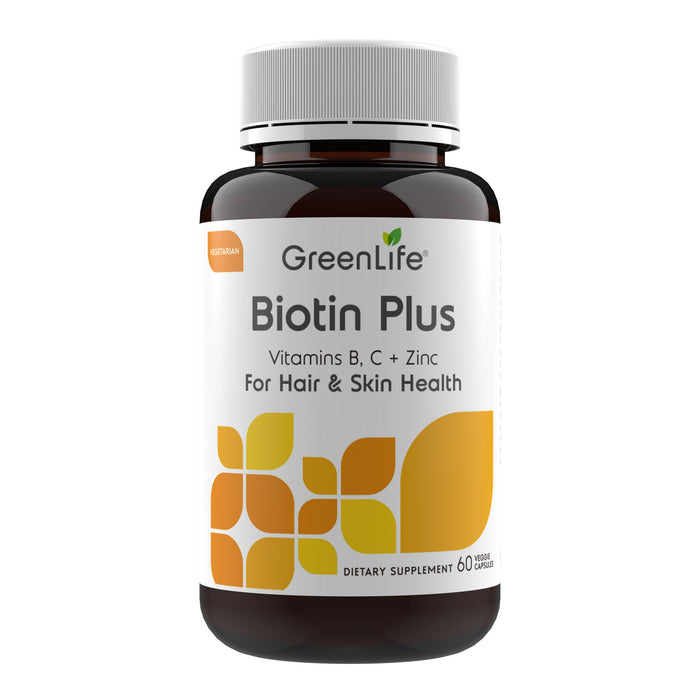 Vitamins B, C + Zinc for Hair & Skin Health. 

GreenLife Biotin Plus is an advanced formulation combining a range of B-Complex Vitamins including Biotin with both Vitamin C and Zinc to provide essential nutrients in times of stress and immune challenges.

Biotin and Vitamin C support healthy hair, skin and nails. B Vitamins are essential for energy production in the body and are easily depleted by stress. Zinc and Vitamin C provide antioxidant support for healthy immune function during times of illness or stress.

GreenLife Biotin Plus supports:
- Immune function
- Energy levels
- Skin, hair and nails
- Respiratory health
- Antioxidant protection
- Cardiovascular health

Recommendation

Take 1 capsule per day with food or as directed by a healthcare professional.

Supplement Facts

Serving Size 1 Capsule

Servings Per Container 60



Amount per Serving
Vitamin B1 (as Thiamine Hydrochloride)
10mg
Vitamin B2 (as Riboflavin)
10mg
Vitamin B3 (as Nicotinamide)
40mg
Vitamin B5 (as Calcium Pantothenate)
10mg
Vitamin B6 (as Pyridoxine Hydrochloride)
25mg

Vitamin B12 (as Methylcobalamin)
10mcg
Biotin
900mcg
Folic Acid

300mcg

Vitamin C (as Ascorbic Acid)
200mg
Zinc (as Citrate) 

15mg

Other ingredients: Cellulose, Magnesium Stearate, Silica, Veggie Capsule.