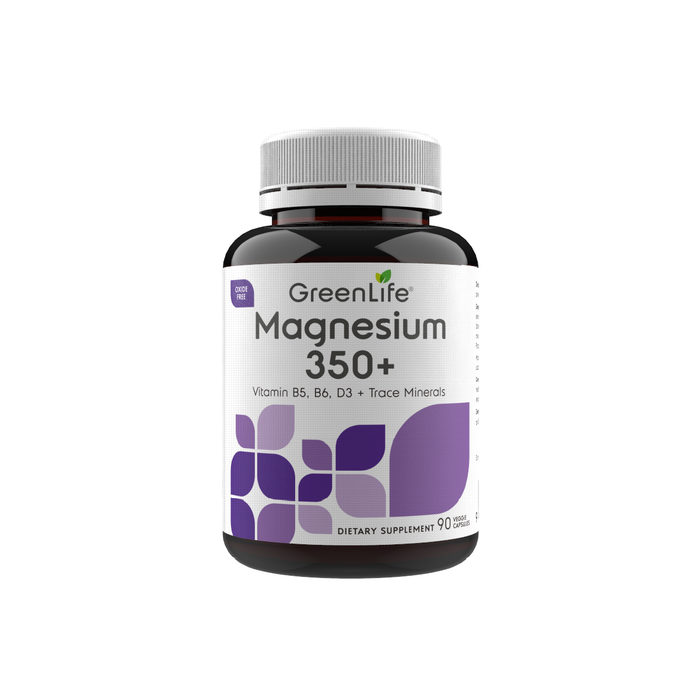 GreenLife Magnesium 350+ with Vitamin B5, B6, D3 + Trace Minerals

GreenLife Magnesium 350+ contains 350mg of natural, oxide-free elemental Magnesium. Derived from clean ocean seawater, this bioavailable form of Magnesium also contains naturally occurring trace minerals; Boron, Calcium, Chromium, Copper, Iodine, Iron, Manganese, Potassium, Selenium and Zinc.

Magnesium plays an essential role in the body and is well-known to support cardiovascular, nervous and musculoskeletal health and wellbeing.

GreenLife Magnesium 350+ has been specifically formulated to support healthy energy levels, recovery for tight muscles, restful sleep and mental relaxation, especially in times of stress and worry.

GreenLife Magnesium 350+ has the added benefits of Vitamins B5, B6 and D3 for optimal muscle and bone health.

Note: Magnesium in the Magnesium 350+ is a naturally occurring Magnesium Hydroxide produced from a natural mineral source – calcareous marine algae (Lithothamnion sp.).



 

Recommendation

Take 2 capsules per day or as directed by a healthcare professional.

Supplement Facts

Serving Size 2 Capsule

Servings Per Container 90



| | |
| --- | --- |
|  Amount per serving | |
| Natural Marine Sourced Magnesium Complex | 958mg |
| _Providing Elemental Magnesium | 350mg |
| Vitamin B5 (as Calcium Pantothenate) | 80mg |
| Vitamin B6 (as Pyridoxine Hydrochloride) | 60mg |
| Vitamin D3 (as Cholecalciferol) | 200IU |




Other ingredients: Magnesium Stearate, Silica, Cellulose, Gelatin Capsule.