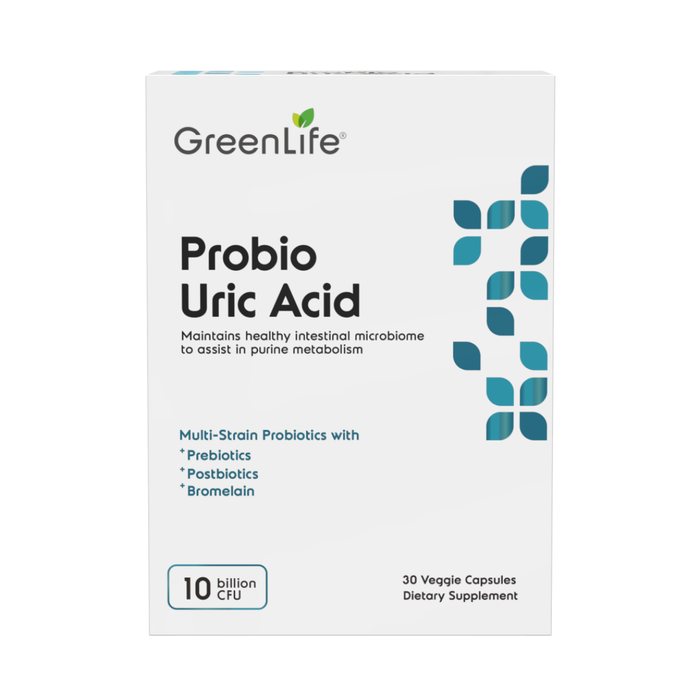 Probio Uric Acid [Exp July 2024]








Maintains healthy intestinal microbiome to assist in purine metabolism

GreenLife® Probio Uric Acid is a formulation of prebiotics, probiotics and postbiotics that helps metabolise the source of uric acid in the gut.

Uric acid is a chemical created when the body breaks down substances called purines. Purines are normally produced in the body and can also be found in some foods and drinks.

GreenLife® Probio Uric Acid helps the metabolising of purine-rich food into purine bases, which are difficult to be absorbed by the body. The purine bases will be excreted by the body.

Benefits of GreenLife° Probio Uric Acid:
• Helps break down purines
• Promotes enzyme production
• Balances bacteria & pH levels
• Helps healthy digestion of food in the intestines
• Strengthens overall immunity



Recommendation

Take 1 capsule an hour before meal twice a day or as directed by a healthcare professional. To be stored below 30°C and keep refrigerated after opening.




Supplement Facts

Serving Size 1 Capsule
Servings Per Container 30

Amount per Serving
Probiotic blend
160mg
Total live cultures: 10 billion CFU blend of

--Lactobacillus fermentum (TFS331)
--Lactobacillus reuteri (TSR332)


FOS (fructooliqosaccharides)
80m

g

Postbiotics fermented powder blend
 (including Lactobacillus salivarius,
 Bifidobacterium lactis,
 Bifidobacterium longum)
5mg
Bromelain Powder
--Equiv. to 15 GDU

5

mg

Other Ingredients: Corn Starch, Dextrin, Yogurt Flavoured Powder, Veggie Capsule.
No added: Gluten, egg, dairy, wheat, soy, yeast, artificial flavours or sweeteners.