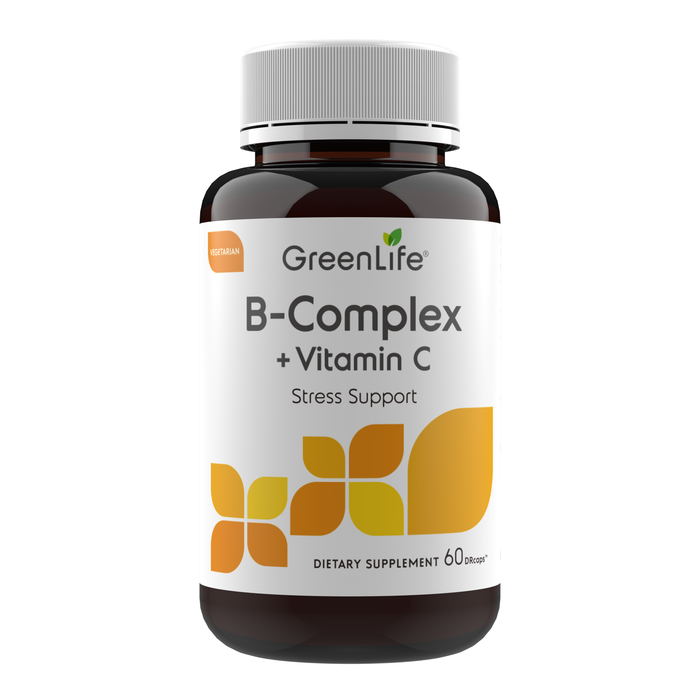 GreenLife B-Complex + Vitamin C is
- designed for energy production and stress support
- delivered using delay-release capsule for sustained nutrient support over time
- formulated with activated B vitamins (B2, B6, Folate, B12 and Choline) which need less metabolic enzymatic activation for enhanced bioavailability and bioactivity in the body. 

Recommendation

Take 1 capsule per day or as directed by a healthcare professional.

Supplement Facts

Serving Size 1 Capsule

Servings Per Container 60



Amount per Serving
Vitamin B1 (as Thiamine Hydrochloride)
40mg
Vitamin B2 (as Riboflavin Sodium Phosphate)
20mg
Vitamin B3 (as Nicotinamide)
60mg
Vitamin B5 (as Calcium Pantothenate)
60mg
Vitamin B6 (as Pyridoxal-5-Phosphate Monohydrate)
10mg

Vitamin B12 (as Methylcobalamin)
400mcg
Biotin
200mcg
L-5-Methyltetrahydrofolate Calcium

200mcg

Choline Bitartrate (Vitacholine®)
100mg
Inositol
25mg
Vitamin C (as Ascorbic Acid)
180mg

Other ingredients: Magnesium Stearate, Silica, Sodium Starch Glycolate, Acid Resistant Vegetarian Capsule.